INTERACTIVE CONTENT DELIVERY SOLUTION
Digital Media Room (DMR)
A Transformative Communication Technology
Web Real-Time Communications
Communication is the root of all interactions and group engagements. In the digital business world, we fill this need through integrated HTML5 Video and WebRTC cloud solution.
The Digital Media Room is a virtual room in the internet space offering a new way of doing business. The room can be customised to suit each type of business by integrating various types of applications and content.
Digital Media Room Features

TOP BAR

Custom content integration for : Logo, Branding, 3 Menu links

Standard room control buttons : Show background, Rearrange videos, Change settings, Invite, Information, RefreshFULLY CUSTOMISABLE LEFT BAR

Custom content integration types : Video gallery, Image gallery, Virtual walkthroughs, Interactive maps, Downloadable PDF documents, Calculator, Booking calendar, Event calendar, Feedback form, Contact form, Online store, Payment gateway, eSigning, etcRIGHT BAR

Standard tools : Participants list, Messaging, File sharing, Presenter screen, Social media feed, Sketch board
Customise The Digital Media Room For
Public Broadcasting
Meetings & Conferences
Virtual Service Counters
Virtual Library & Resources
Virtual Institutions & Centres
Virtual Malls
Public & Government Centres
Education & Training
Immersive Commerce
Financial & Legal
Digital Exhibitions & Expo
Interactive OTT
Virtual Reality
5G Ready Content & Experience Centre
Digital Media Room Technology
Real-Time Streaming
Room Redirection
Broadcast Feature
Add Custom Apps
File & Screen Sharing
Instant Messaging
Interactive Sketchpad
Room Control
No Download
No Registration
Dedicated iCDN
Streaming Intelligence
Proprietary AI
Onion Layered Security
(Enterprise Level)

Private Cloud Hosting
(Enterprise Level)
Unlimited Audience
(Ecosystem Level)
Some Digital Media Room Use Cases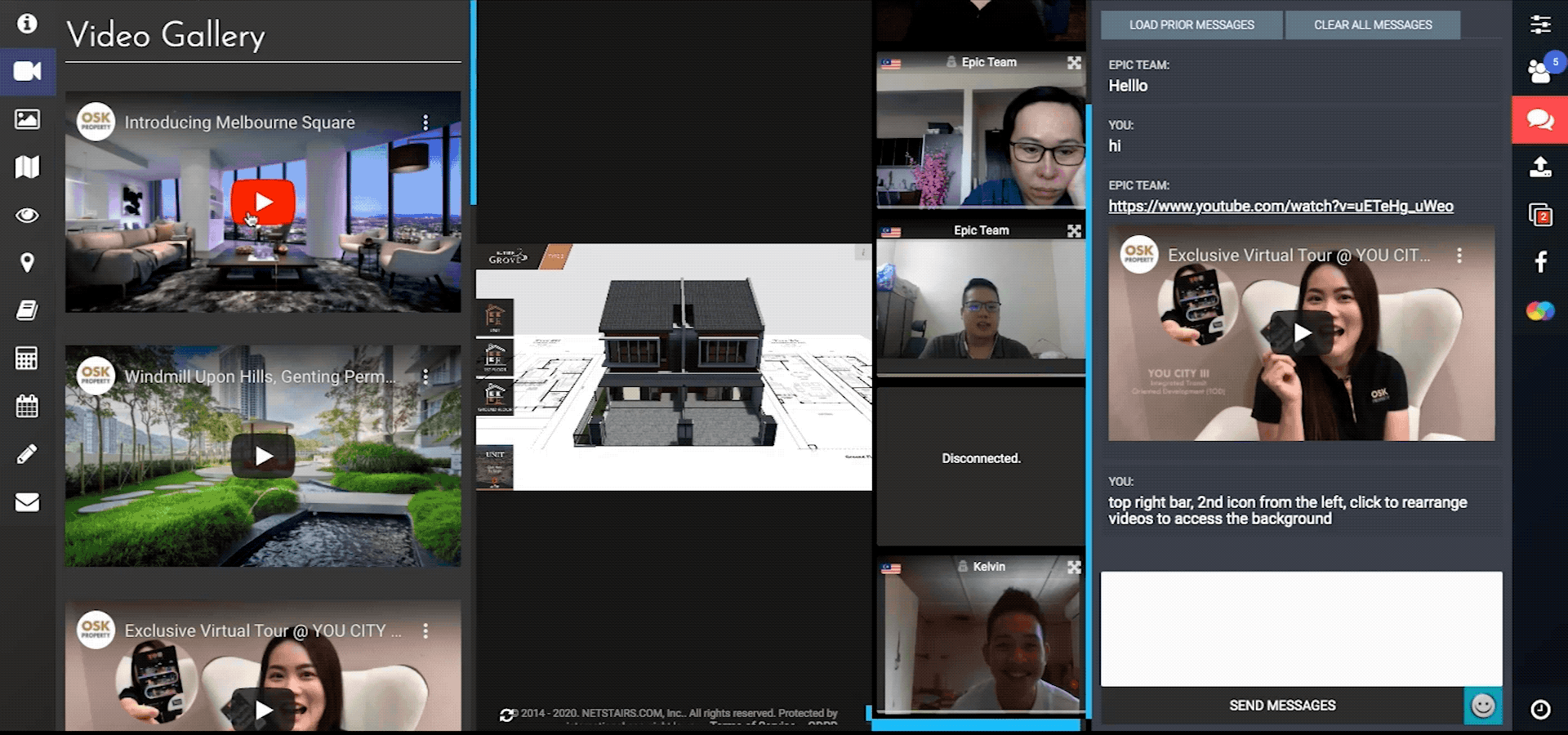 Virtual Property Gallery
Showcase your portfolio in real time while interacting with prosepctive buyer. Integrate forms, brochures, walkthrough videos, loan calculator, etc to further support your discussions.
Virtual Event Platform
Organise a private group watch party, perform product launches, host award shows and more. Integrate content such as sponsors gallery, feedback form, mobile payment, video gallery, etc.
Virtual Customer Service Counter
Perform private and secure transactions remotely with a customer service personnel remotely. Integrate content such as brochures, video gallery, calculators, forms, eKYC, eSignature, customer survey, mobile payment, etc.
Virtual Mall
Browse, shop and engage with a shop assistant from the comfort of your home. Integrate promotional materials, product videos, ecommerce, mobile payment, catalogues, loyalty programme, location maps, etc.
 Integrating real-time video-first into web services
The Easiest Way To Interact Over Video
Experience the digital media room platform today